I have always enjoyed dressing for the holidays, whether it be in a rich green velvet for Christmas or a pastel pink for Easter.  Naturally, with the season of patriotic holidays upon us, my thoughts turn to wearing red, white and blue.  The only problem is I do not want to look like a walking billboard for Uncle Sam.  I want something classic, something dignified, something that won't make my kids cringe when I walk out of the house
  So, I do what I do best, I look to contemporary classic women to see how they mastered the feat of looking patriotic without evoking patriotic comparisons to dreadful Christmas sweaters.
If anyone could pull off the red, white and blue look with class it had to be Jackie Kennedy Onassis.  Here she is seen with a simple navy and white striped shirt, white jeans, the American Flag watch she designed, and, of course, those famous glasses.
If there is a current celebrity with the fashion sense that Jackie had, it most likely would be the Duchess of Cambridge, the former Kate Middleton.  She has shown herself to be both fashion and budget conscious.  Last summer during the London Olympics, she delighted the "royal watchers" over and over again with her ability to mix-and-match the blue and white color scheme, making each outfit look new and fresh.  She certainly got her money's worth from her Smythe blazer, J Brands jeans, and Stuart Weitzman "Corkswoon" style wedges.
Political wives in the United States must, of course, master the red, white and blue ensemble.  Michele Obama wore the red and blue sleeveless top with a white skirt on July 4, 2012.  The double blue belt adds a nice, contemporary touch as do the bold stripes in the top.  The combination creates a comfortable summery patriotic look.
Katie Holmes adds her own spin to the red, white and blue look by pairing her red-and-navy striped top with white skinny jeans.
If there is one take-away from these four women and their red, white and blue looks, it would be the striped top.  Worn with a pair of blue or white jeans or a white skirt, you have the perfect look that will carry you through the summer season.  Add a blazer and you're ready for the cooler evenings while never missing a "style" beat.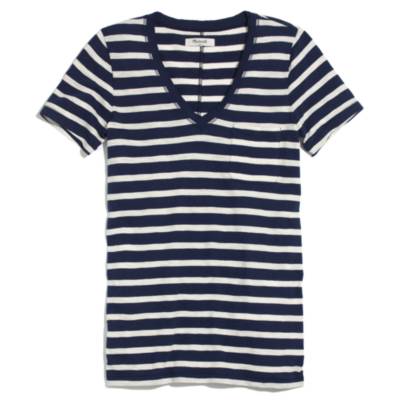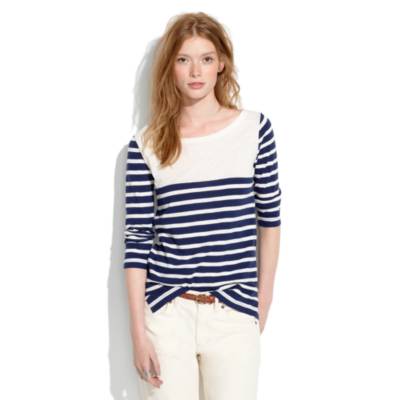 Crew Neck with Button Shoulder